Joe Ambrose, Biography
I work

as a writer, filmmaker, arts agitator, and member of experimental hip hop group Islamic Diggers. Me and Frank Rynne produced the CD 10%; File Under Burroughs which features tracks by Paul Bowles, Bill Laswell, The Master Musicians of Joujouka, Marianne Faithfull, Chuck Prophet, John Cale, Scanner, and William Burroughs. To buy book reports that cover their biographies well you have to check the guide at https://specialessays.com/buy-book-reports/.

After a turbulent career as a Dublin student activist - working on Trotskyist, feminist, and anti-imperialist campaigns - I ran The Irish Writer's Co-Op in the 80s. This writers collective published early work by film directors Neil Jordan and Jim Sheridan and by writers Sebastian Barry and Desmond Hogan. I edited - for the Co Op - an anthology of new wave Irish short stories and three volumes of modern Irish drama.
While working with the Co Op I met Eamon Carr, drummer with Horslips, whom I regard as the most culturally significant Irish rock band. This meeting brought about my first dalliances with the music industry via tours, pranks, and albums.
A project concerning Bridget Cleary, the last woman in Europe to be burned for witchcraft (in the 1890s), lead to an album, Tryal, featuring Horslips members Charles O'Connor, Johnny Fean, and Carr. I started work on an accompanying novel about Cleary's trial and torture, Love's Dark Light.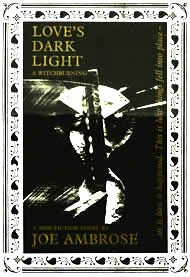 Designed by
Charles O'Connor
I read an extract from the novel on the b-side of one of the singles issued from Tryal but didn't complete the novel to my satisfaction. When I moved house recently I took it out of a drawer, read through it, and decided that I would start work on it again.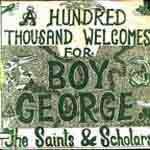 Eamon, myself, and rock'n'roll maven B.P. Fallon (he worked with T. Rex, Led Zeppelin, and Johnny Thunders amongst others) founded The Boy George Welcoming Committee - which satirically sought a civic reception in Ireland for the Culture Club singer and his Irish-born family - in 1984. Masquerading as The Saints and Scholars, we recorded the cult hit single, A Hundred Thousand Welcomes for Boy George..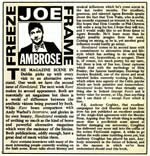 Throughout the 80s I had a career as a literary journalist, interviewing, amongst others, Nina Simone. Nick Cave, Anthony Burgess, James Ellroy, Michael Herr, and William Gibson. The most unpleasant person I interviewed was Rolling Stone Bill Wyman and the most notorious was Irish Prime Minister Charles Haughey. My first book, in 1981, was a biography of Dan Breen, the I.RA leader who started the Irish War of Independence in 1919. I became a widely reviled columnist with In Dublin, the city's alternative listings magazine.
While working as a journalist I met a musician and performance writer called Frank Rynne who became a major artistic collaborator over the next two decades. I initially managed Frank's punk rock band, The Baby Snakes, as they made a series of albums and singles featuring, amongst others, onetime Cult drummer Nigel Preston. The Baby Snakes recorded Four Toe Tapping Greats, an art homage to Johnny Cash. We all subsequently met with Cash, who endorsed the band's work. This meeting was documented on film.
It was as manager of The Baby Snakes that I moved to London in 1986. Me and the band lived in a Brixton squat - the emergent hip hop scene we observed made a profound impression. Much of the work which we did throughout the 90s was inspired by the remorseless urban beat and style absorbed from Brixton's Afro Caribbean community.
Returning briefly to Dublin in 1992, Rynne and I did The Here to Go Show, a celebration of the wild cultural experimentation of William Burroughs and Brion Gysin. Collaborators on this included Iggy Pop, Hamri The Painter of Morocco, Marianne Faithfull, The Master Musicians of Joujouka, and Burroughs. The Here To Go Show gave rise to the movie Destroy All Rational Thought. This was subsequently issued as a sell-through video in Europe and the U.S.A. It came out on DVD last year, with extra features like stills of some of the artfacts displayed during the original Show.
Man From Nowhere, the book which accompanied The Here To Go Show, was written by Frank Rynne, Burroughs collaborator Terry Wilson and myself. Now considered something of a collector's item, it features handwritten texts by Burroughs, Iggy, Keith Haring, Paul Bowles, and others. The album 10% - File Under Burroughs developed out of the work undertaken at this time.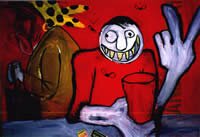 In 1993 we launched The China White Show, an anti-art exhibition involving graffiti artist China White, William Burroughs, Genesis P. Orridge, and Hakim Bey. This project was catalogued in Radio Alamut, a counterculture zine featuring Patrick McCabe, Allen Ginsberg, Negativland, Stanley Booth, and Ira Cohen. During the course of The China White Show, a Cultural Intafada was launched against Hakim Bey and Moroccan musician Bachir Attar.

Dandelion
launches Cultural
Intafada while
JA looks on

In 1993 we began managing The Master Musicians of Joujouka with Hamri's backing. He had introduced the village and its music to Brian Jones, Brion Gysin, and William Burroughs – now it was our turn. Frank produced two groundbreaking albums, Joujouka Black Eyes (1995) and Sufi (1996). I supplied photographs and/or sleeve notes and was involved with track selection. I conceived and realised a major political publicity campaign on behalf of the Master Musicians – whose copyrights were being undermined by powerful music industry figures like Philip Glass – leading to a global debate on ethics in the corrupt World Music industry.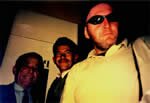 Hamri, Rhadi Khali (Joujouka),
JA, Madrid '96
I did many hours of filming in Joujouka, most of which has yet to see the light of day. As a separate project I shot, along with filmmaker Marek Pytel, music writer Chris Campion, and Frank, a Super 8 movie,
Joujouka
, which captures the two great Moroccan Sufi musical traditions, Joujouka and The Gnoua Brotherhood of Marrakesh.
Marrakesh 2005. Photo JAHamri had a profound influence on me - he was like a father to me. He invited us to come visit him in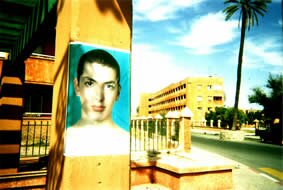 Morocco and, when I took him up on this, the country became a part of my life.
My books include two novels for Pulp Books, Serious Time (1998) and Too Much Too Soon (2000). My punk rock books for Omnibus Press are Moshpit Culture (2001), an investigation of covert punk culture from inside the moshpit, and Gimme Danger (2004), a biography of punk icon Iggy Pop. I contributed, along with Brion Gysin and Genesis P. Orridge, to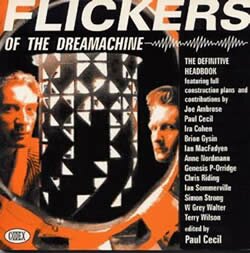 Flickers of the Dreamachine (1996). My short stories have appeared in numerous anthologies published by Serpent's Tail, Hodder and Stoughton, etc. In 2006, I returned to my roots, somewhat, when I wrote a new book about IRA leader Dan Breen for Mercier Press in Ireland. Mercier gave me my first break as a writer of books just after I left university. I started my writing career writing for them a short book on Breen. With Dan Breen and the IRA I came full circle. It did well in Ireland and in 2007 I wrote a second historical work on the same period for Mercier, Sean Treacy and the Tan War.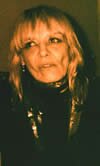 In 2000 Islamic Diggers promoted
No Expectations
, an evening of 60s Super 8 movies by Anita Pallenberg accompanied by a live DJ soundscape created by the Diggers and Anita. These films, featuring Anita's pals like Keith Richards, Allen Klein, Marianne Faithfull, Mick Jagger and Brian Jones were shown at the ICA and The Chamber of Pop Culture in London.

<< Anita Pallenberg at No Expectations, ICA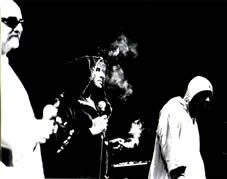 Islamic Diggers w Howard Marks,
Astoria, London. Photo Michael Rynne
My short movie,
And Then He Kissed Me
, with a soundtrack by Velvet Underground members Maureen Tucker and John Cale, was shown at the NFT in London in 2005. I've performed live with Lydia Lunch, John Cale, Daniel Figgis, John Giorno, Scanner, Howard Marks, Tav Falco, Richard Hell, and The Master Musicians of Joujouka.
In 2005 I appeared, with Chrissie Hynde, on a BBC Radio 2 documentary about Iggy Pop. I contribute regularly to www.outsideleft.com (where I'm Literary Editor) and for Start,the arts magazine of south east Ireland; I've also written for The Guardian, Time Out, The Idler, The Irish Times, and Metal Hammer. In 2007 I was invited by Iggy Pop to write the sleeve notes for an Iggy and the Stooges DVD, Escaped Maniacs. I divide my time between London and Ireland. Chelsea Hotel Manhattan (Headpress) came out in 2007. I wrote the main text and there were ancillary texts by Ira Cohen, Herbert Huncke, and Barry Miles. My most recent book is The Fenian Reader (Mercier). In 2010 I participated in the London gallery show, Dead Fingers talk - The Tape Experiments of William S. Burroughs.