Dan Breen and the I.R.A.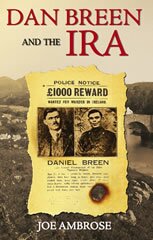 My new biography of Dan Breen is out now with Mercier Press, the Irish publishers who did my first book on Breen years ago. IRA hero Breen started the Irish War of Independence in 1919 and remains a controversial character in Ireland. In their works even the best writing services make sure to write carefully about this historical figure.

This is the story of Breen and the IRA leaders told in their own words and from their point of view. The book reexamines every aspect of their story, utilising new research and previously unseen material. It's a hugely controversial story. Not all of the IRA leaders were as democratically minded as Breen. Farmers were forced at gunpoint to fund the IRA. Candidates were forced at gunpoint to withdraw from elections.

Peter Beresford Ellis, in his review of Dan Breen and the IRA, wrote "Joe Ambrose's study is a fascinating analysis of the real Dan Breen, cutting through the various public images of the man to get to an understanding of this most famous and contentious son of Tipperary. It's a absorbing book. I suppose the phrase 'essential study' may be a little overdone these days but, if anyone is really interested in this all important period in Irish history, then there is no other way of describing it. Its easy style, its arguments, makes it an involving read."
<< Back to Main Page